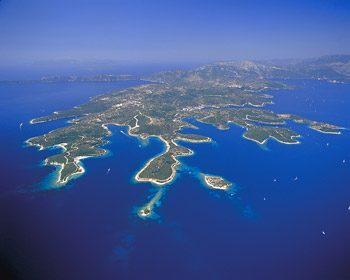 Meganissi is a picturesque island in the Ionian Sea, four nautical miles at the southeastern side of the island of Lefkada. From the group of Lefkadian Islands, Meganissi is the biggest one.
Scorpios, Scorpidi, Thilia, Kithros and more islands compose the administrative area of the municipality of Meganissi (Taphion), that are caled Telvoides. It stretches 19,85 sq.km. Administratevely it belongs to the prefectur eof Lefkada. The municipality of Meganissi haw three picturesque villages: Vathi, Katomeri and Spartochori, each one with its own beauty and peculiarity and the main settlements with total population 2000 inhabitants.
The traditional architecture, the friendly people, the peaceful live of the inhabitants, the exciting landscapes, the picturesque harbors with the fish tavernas, the enchanting view, the totally green landscapes and the blue green creastal-clear sea create an ideal place for holidays. Agios Ioannis, Spilia bay, Ampelakia, Atherinos and Limonary Bay are the most well known beaches of the island while the Papanicoli Cave and Giovani Cave are worth a visit.
There is regular transportation from Nidri 16 km south of the town of Lefkada along the eastside area. Meganissi is four nautical miles from Nidri and one and a half mile from Scorpio island. There is Ferry Boat every day from Nidri to Meganissi and the opposite. From 7.00 p.m. there are regular itineraries from Nidri to Meganissi (Spilia - Vathi).
Spartohori Meganisi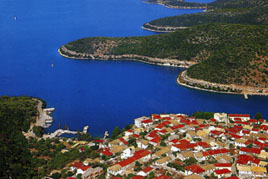 Every day there are itineraries to Ithaki Kefalonia. The boat trip which lasts 25 minute is marvelous and the visitor has the chance to adminre a lot of the smaller islands spread round Meganissi. Among them are Madouri - with the old manor house of poet Valaority - as well as Scorpio, property of the Onasis family. In Meganissi there is public bus for passage to the villages and beaches of the islands.
You can also enjoy surfing at Agios Ioannis and all the water sports at Spilia. There are daily organisez cruises by boat at the Papanicoli Cave and round the island.
Meganissi is visited by thousands of tourists and offers hotelsm furnished flats, rooms and everything to give the best to its visitors.
More pictures of Meganisi